What we learned from a creative women's circle
Creative Postcards
Second Edition- Fall 2020
November started and with it came a bittersweet feeling. You might ask why? Well, it was the end of the autumn edition of my Creative Postcards project. But the exciting thing about this is that I will soon receive postcards from all over the world created by the hands of an inspiring group of women. 
 The project was born as part of my Creative mentoring sessions. I wanted to create a women's circle where we could share our creative journeys in a safe space.
This year the community grew. Women from different countries came together with the intention to create.  
I loved seeing each woman's creative process. How they evolve from ideas to action, the way they help each other, and being witness of the incredible work and the love on each postcard.
This is a project that charges your batteries with tons of positive energy, makes you see things from another perspective and allows your creativity to naturally flow.  I promise there will definitely be another edition. Stay tuned because I promise to come back sooner than expected.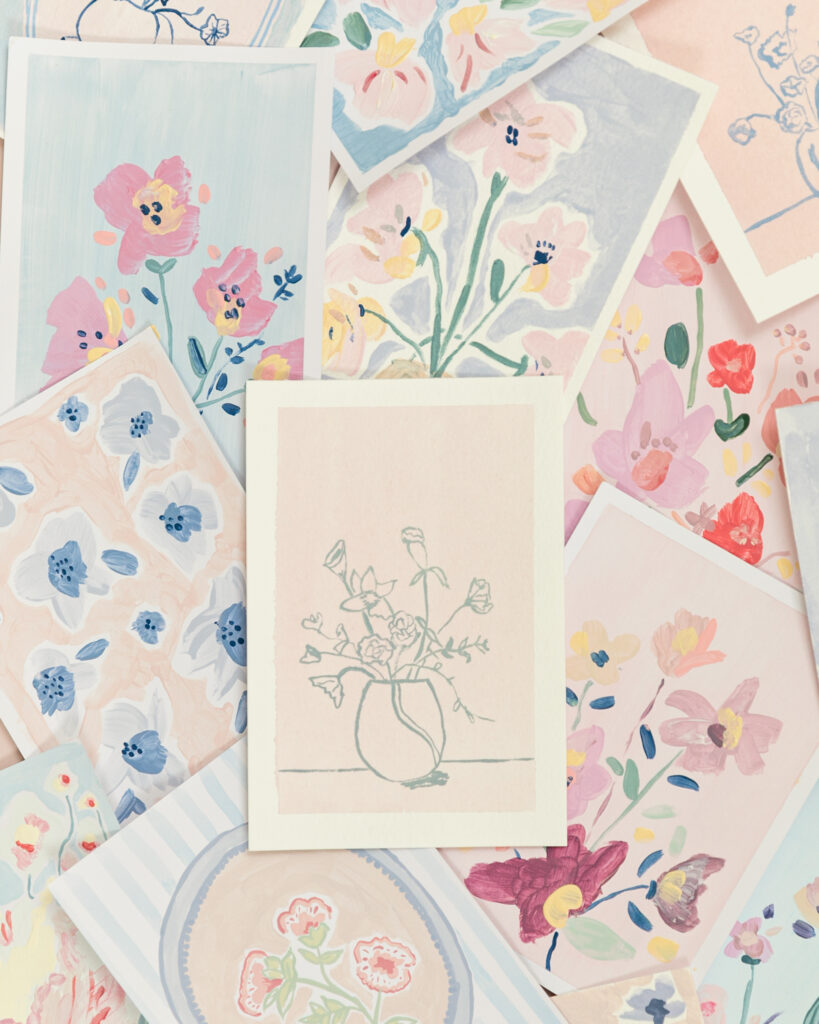 Autumn edition – Our creative journey
August was ending and with it, the first edition of Creative Postcards. I was still immersed in a sea of energy and good vibes from it that I didn't hesitate to jump into a new adventure. This time, I was inspired by the beauty of the autumn season and its colors were the key that opened the door to this new edition.
I opened up the project registration, and I was so amazed that in only 48 hours, 54 women from all over the world had trusted me in this adventure and wanted to join the creative community. I'm so happy they all had the determination to be to create something along with a group of talented women.
I have to admit it was not an easy path for me. I was going through some major changes in my life. We moved to a new house and a new area. Unpacking and setting everything up can be quite stressful. Also Sharpie (my little dog) joined the family, and even though puppies are adorable, they are a lot of work, but that is something for another story.  
You can now imagine the chaos I was going through. But even so, I still dedicated some moments of my day to my postcard collection. Those moments when I was painting by myself listening to music, I lost track of time. Those moments were so personal and the chaos seemed distant. 
 But the most important thing is that, at the same time, 54 other women were beside me doing the exact same thing; exploring our potential, flowing, and learning together.
The first edition left us with some great lessons, but this new edition came with new ones. I am moved by how in each edition I learn new things and my heart opens to new creative understandings.
If you want to read some of the lessons from the first edition of creative postcards, I invite you to discover it by clicking in the next link: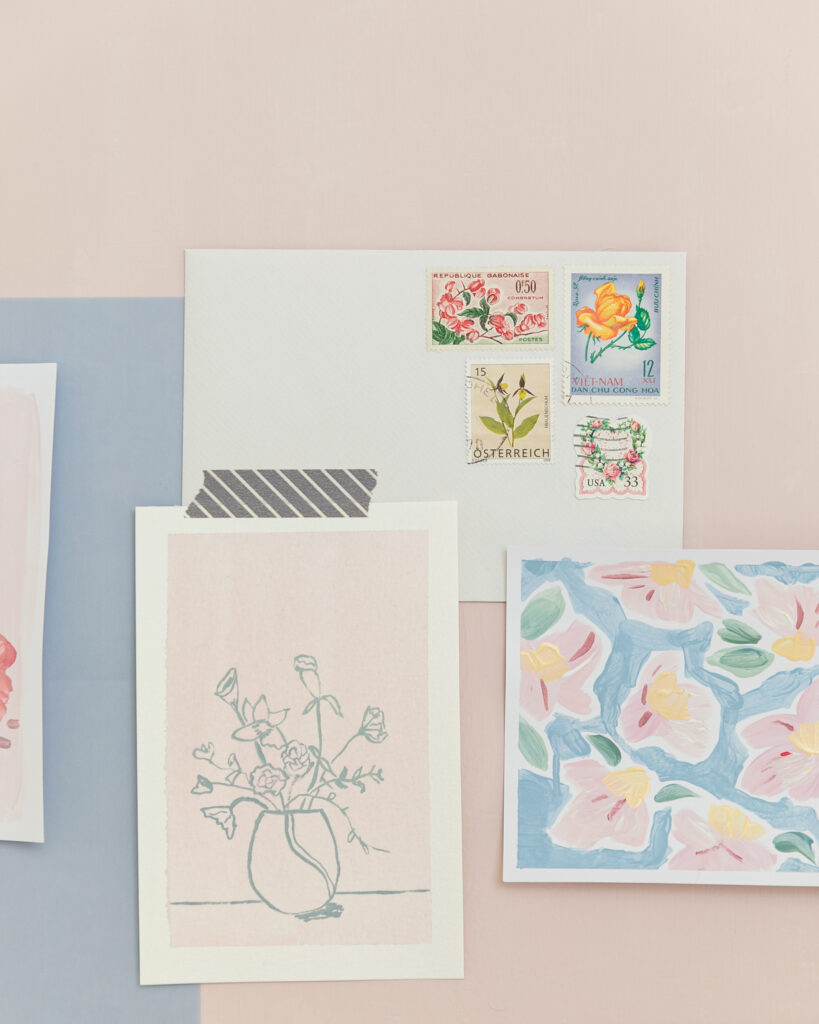 Lessons learned in our fall edition
1.

Making space for yourself:
Our day to day, our jobs and daily occupations can immerse us in a routine. We put a thousand things first before having quality time for ourselves.
This project, which started in the middle of such an important and chaotic month in my life, helped me realize that making time for yourself is essential. I understood that doing something that fills me with joy, taking the time to develop it, and not putting it off can be so rewarding and uplifting during chaotic times. 
It might sound crazy and you might wonder, why would I start a project like this when I already have so many things to do? 
Well, because by taking time to do something that brings peace to your heart, you fill yourself with positive energy to be capable to shine and do your best in every aspect of your life and for me, this project meant all of this.
Deep down I knew, if I didn't give those little moments to myself, out of the chaos, I would hardly have the energy to do more.
2. Together is always better:
As creative souls, we are often working in a lonely environment. We are normally collaborating with other professionals on certain projects, but we aren't in an office with other colleagues and this can lead us to feel solitude in our working days.
By working so hard with 54 women on a common project and being in constant communication with them, this feeling disappears. Suddenly you are living an experience with other talented people. This breezes your day and makes your daily routine totally different.
Just straight away, you stop feeling lonely because you are walking with other women who enjoy the same things as you. Now you share a common goal, and you are accountable for finishing this project.
3.

Believe and trust in yourself:
As creatives, we may start with a few ideas in mind, but then we start doubting ourselves. We might think that the idea is too difficult, too ambitious or too boring. 
But in a project that has been created with the intention of  having fun, there is no room for hesitation. Do you know why? Because this project is focused on the enjoyment of the creative process and journey and not so much on the final result.
This takes the pressure off yourself. You know you don't have to create "a masterpiece" and that relif comes with a certain peace. Then, the process becomes fun and you start feeling more confident in experimenting and taking small risks in your heart's direction. You begin to believe in yourself and in your abilities to achieve amazing results.
4.

Its ok to ask for help
We often pretend we know everything related to the work we're doing. We want to show we are powerful and that we've arrived all by ourselves to this beautiful piece of art. Sometimes we will, but sometimes that path can become lonely. It's brave to be vulnerable and admit you need help. Allowing yourself to be supported by wonderful people, can make your ideas flow and to grow. 
It is OK admitting your mistakes and opening up to receive the guidance of someone who can see what you're doing with different new eyes. No one knows it all and you shouldn't be ashamed of asking for help.
But always discerning and staying true to your heart and vision.
I am looking forward to starting the new edition of creative postcards and for those lessons yet to come.
 If you also want to be part of a creative circle of women and create a series of collectible postcards, don't miss out on the next edition.
While the next edition opens its doors, remember we can work together on your projects through my Creative Mentoring program, where I help women to have clarity and to fire up their creative spark so they can successfully carry out their projects and communicate them as they have always dreamed of.
1:1 Sessions
If you need help in your creative journey I've created a 1:1 mentoring program. I help women get clarity and connect with their creative flow so that they can make ideas bloom.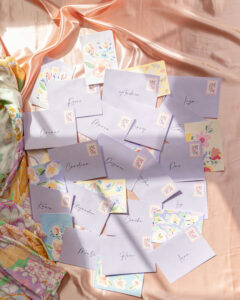 A few weeks ago we finished the first Creative Postcards project. If you ask me how the experience was, I would summarize it in two words: transformative and unforgettable.
Read More »