Its design through time, from Mexico to London.
Since I started my creative journey, it has been very important for me to have a place that gives me peace and the inspiration I need to start working. A space that not only sees ideas bloom but also creative projects being finished.
I believe that having a place dedicated to your work is honouring your creativity and giving it the space it deserves. Having a creative niche allows you to flow and start working with the right mindset. When you enter this creative room or when you sit in that corner set up for you, you know that it is time to start creating.
For me, these spaces have been a vital source of inspiration.  This is why I invite you to come with me on this journey through the different creative spaces that I have had over time.
1. My first creative space
2010 – My first workspace was when I was still living in Mexico with my parents. I felt the need to move from the family work station and have my own space. With a lot of effort I bought my first laptop and adapted a corner of my room with a table and a chair. I didn't had a big budget, but I decorated it with my personal touch (washi tapes) and it became the ideal place to create.
As you can see, I tried to make it nice and simple, with a bit of colour but without it being the main attraction in my room, since it was not only my place to work but also to rest.
2. My first space in London
2015 – Moving to London was not only a change of country but I was also sharing the space with another person, my husband, who is not exactly a lover of pastel colours. 
We came to London on a budget and as you know, London is quite an expensive city, so we moved into a one bedroom apartment. This time my creative space had to adapt to my new situation as a couple, my budget and coexist with the rest of the areas of the house. It was quite a challenge! I was able to adapt a small working space in the living room, and as we were both studying our master's degree, this space served as a study space too.
3. My space in North London
2016 – There are times when we have to make sacrifices to continue with our dreams. Throughout my life I have always had to let things go to make room for new ones to come. In this case, the sacrifice for us involved moving house. This time our home was really small and the only thing left for me was to set up my creative space in conjunction with my dressing table.
Perhaps the idea does not sound very inspiring, but with this I want to show you that willing is power. During my stay in this small apartment, I worked on several of the creative campaigns of which I am most proud of.
No matter the size of your space, the most important thing is to have the correct mindset.
4. My first official studio
2017 – When I started to feel like I was on the right track, I decided it was time to have a room dedicated solely to my creative practice.
With a lot of effort this time, I was able to completely decorate it in my style, it was my blank canvas. The first thing I did was to paint its walls pink.  I wanted to feel the feminine energy that this colour brings, full of peace and tranquility. I then added plants, books, artwork, crystals, among other things.
Over time the design has changed but has kept the same style, pastel colours and femininity.
Now that I have moved to a new house, I will have to design a new studio where I can flow and connect with that energy that motivates me to work.
My creative spaces represent different stages in my life, they have been of all sizes and colours, but they have all served the same purpose, to make my creativity bloom.
If you also want to create your own creative space, do not miss these tips that will help you start now.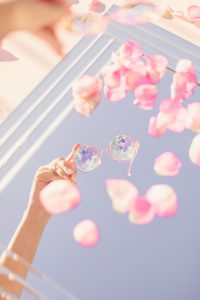 This has been one of my mottos since I started this wonderful creative journey with photography.
Read More »