Introducing mt CASA— the beautifully designed, innovative DIY collection that allows you to effortlessly redecorate your interiors unlike ever before.
Over the last number of weeks, I have been writing blog posts in partnership with Japanese brand mt masking tape, the creative makers and founders of the global washi tape phenomenon. Throughout the series, I have talked at length about my love for washi tapes, shared my experience of the famous mt Factory Tour, as well as revealed how you can win an invite to the tour for yourself with the mt Interior Photo contest.
The mt Interior Photo contest celebrates and focuses on mt CASA— a hitherto rather unknown collection of masking tapes created by mt. To conclude the series, I would love to tell you more about mt CASA— what it's used for, the ways in which it can be used and, most importantly, what makes it so unique.
In a nutshell, mt CASA is a line of masking tapes designed specifically for interior decoration. It gives you the freedom to whimsically decorate your space with beautiful designs and colours. The tapes are easily removed from any surface, meaning you can change up your space as often as you like, however you like— breathing new life into your interiors in the most personable way possible. Who wouldn't dream of that?
The mt CASA line consists of six products, the first of which being the mt CASA tape. Similar to standard mt, mt CASA tape is available in an array of stunning colours and designs. Its incredible versatility means that it can be used to decorate furniture, walls, and can even be used to frame artwork in your home.
Next is the mt CASA SHEET— a perfect product for DIY beginners and those living in rented spaces. These simple, adhesive sheets make it easy for you to beautifully decorate the floors and walls of your space, without causing any damage when the time comes for them to be removed.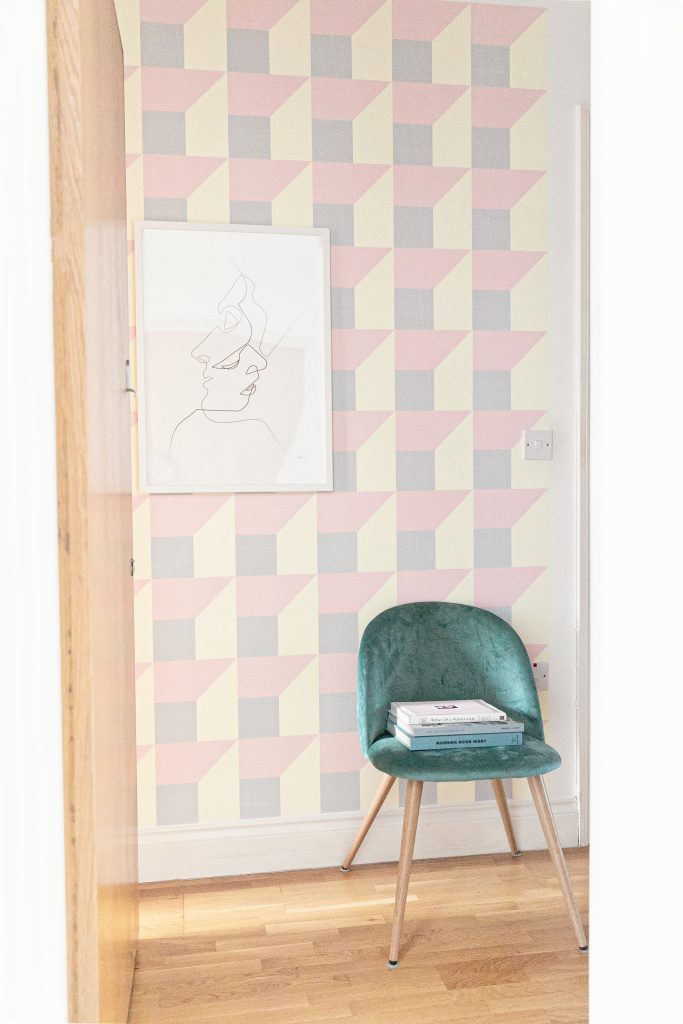 Similar to this, the mt CASA FLEECE is designed for use on walls and any other large surface areas and is the closest alternative to wallpaper. Made from fleece materials, you can enjoy a beautiful pattern on an opaque base that completely covers any underlying colours.
For those who want to soften the sunlight and UV rays pouring through their windows in a fashionable manner, mt CASA Shade is the ideal product. These beautiful sheets are perfect for small windows and, just like with a pair of lace curtains, soft sunlight can be enjoyed in your home without a dreaded blinding effect.
Perhaps the most versatile tape in this collection is the mt CASA Seal— circular stickers that can be used in so many different fashions. From adhering it rhythmically to windows to enjoy the light transmitting through the mt, to creating polka-dot designs on furniture— this is quite possibly my personal favourite product within this collection. You can make your interiors truly unique and personal to you with mt CASA Seal.
Last, but most certainly not least in this collection, is the mt CASA REMAKE SHEET. Perfect for any DIY arsenal, this innovative product gives you the freedom to "remake" almost anything and everything. It can be pasted onto large surfaces such as walls, or can be cut smaller to be pasted on furniture and small items.
For someone like me— who rents in London— the mt CASA collection is the answer to so many of my frustrations. If you've ever rented, you'll know all too well just how limiting it can be when it comes to customising your interiors to your own tastes. Painting, wallpapering and drilling holes— to name but a few— are usually out of the question, unless you want to risk loosing your deposit at the end of your tenancy.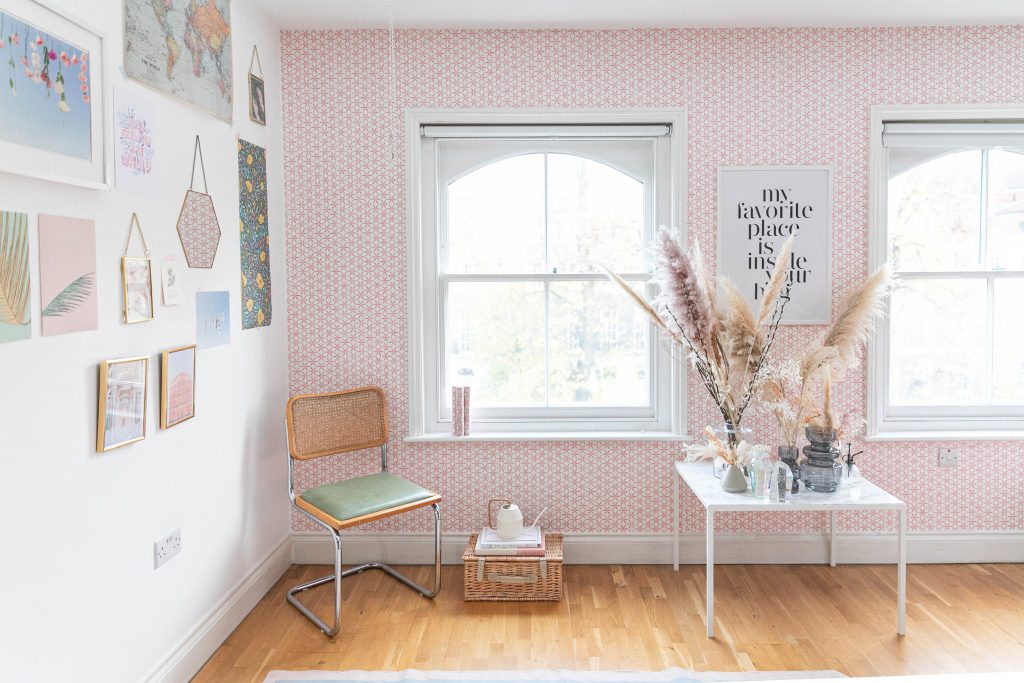 As a designer and someone who loves to be surrounded by colours and patterns, mt CASA is the perfect solution for me. Even with renting my home, I've been able to personalise my space and make it feel more like, well, me! I used the mt CASA FLEECE to create a wallpaper-like pattern, and it couldn't have been easier. I started by giving the wall a good clean, taking the time to vacuum the little spaces between the wall and the windows. Using a cutter and my trusty Oyster Card to flatten the sheet to the wall and prevent air-bubbles (you can use any plastic card, FYI), it took me around three hours to finish. What resulted was a beautiful repeating pattern with a seamless design! And the best part? It'll be just as easy to remove!
All in all, the mt CASA collection is truly a creative's dream— the potential to change up your space as often as you like and to your own personal tastes is right at your fingertips, and couldn't be easier. Hopefully learning more about the collection gives you even more inspiration for the mt Interior Photo contest, too!
Remember, if you need even more inspiration for your creations, you can visit the mt website!
The deadline to submit your photos for the contest is December 10th, 2019. The grand prize and runner-up prize winners will be announced by January 31st, 2020. You could get your year off to the very best start! For the contest entry form, additional information and full set of terms and conditions, visit the mt website.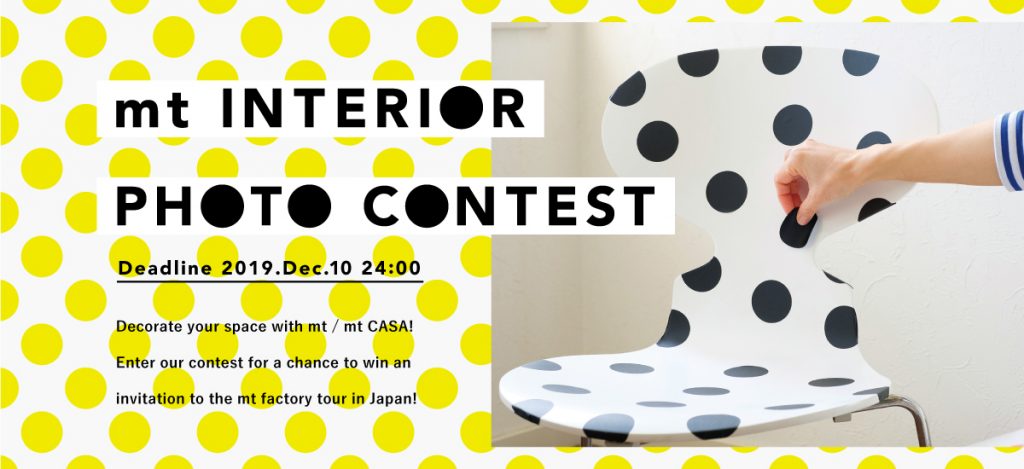 Thank you so much for joining me on this wonderful series— I hope to have ignited your love for design, colours and washi tapes! And, of course, a very special thank you to Kamoi Kakoshi for partnering with me.